---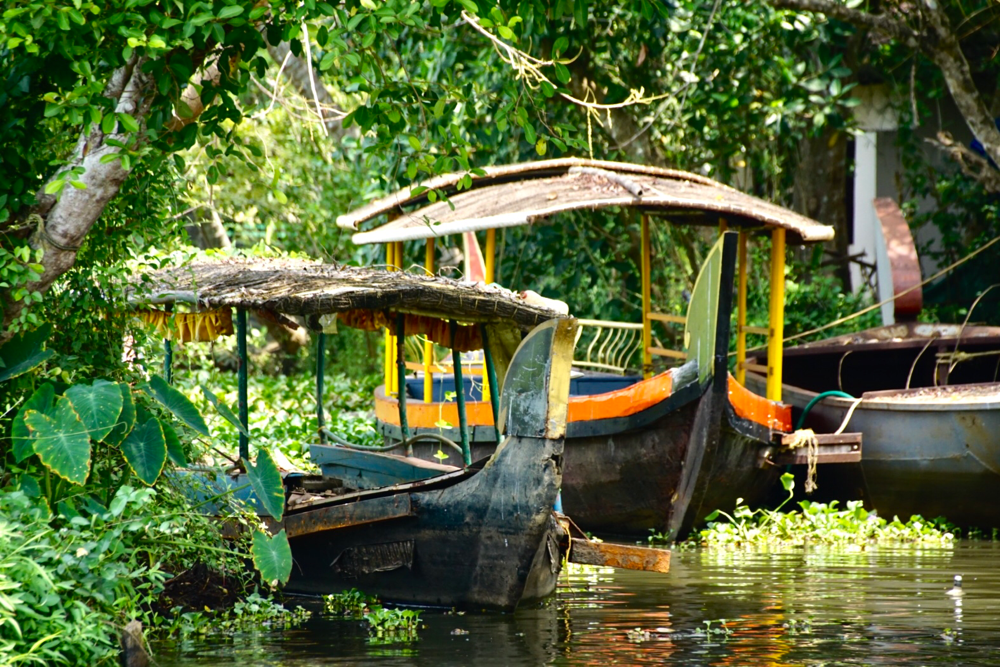 ---
Route from Varkala to Goa:
Starting point was Trivandrum Airport in Kerala and I finished my travels around 2.000 km later at Dabolim Airport in Goa. This route took me one month but depends on your travel speed of course! It can easily be done in 2,5 weeks as well. Travel month was march!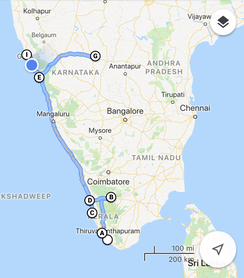 State of Kerala: 
Varkala
Munnar
Alleppey
Fort Kochi
State of Karnataka: 
Gokarna
Hampi 
State of Goa: 
Palolem & around 
---
Varkala
You'll find another(german) blogpost & impressions, focused on Varkala here: 5 Tips für deine Reise nach Varkala / Indien
To make it short: Varkala is the best place to get stuck. Various nice restaurants & colorful café spots, Yoga places, surfing beaches, beautiful sunsets on a stunning cliff located beach - what else does a travelers heart need? 
I did my Yoga TTC in Varkala, so I spent the days and nights of my 5 week stay at a Yoga Ashram, called Mathatitu Yoga Ashram, directly on Varkala cliff.
How to get there: 
Closest airport to Varkala is TRV Trivandrum Airport. It's a 45 minute train ride for 30 Rupees. Tuktuk from Airport to train station charges 350 Rupees without any change to bargain. If you take a taxi straight to Varkala from the airport, that may cost about 1.400 Rupees and makes more sense, if you are more people. 
Where to sleep: 
To give a accommodation reference: Check out "Mad about Coco". It's also on the cliff, but a little bit in the backyard. It has rooms and a really delicious Café. So If you are looking for a quiet place in the middle of the happening. Single rooms available for about 800 Rupees per night. 
Where to do Yoga: 
If you are visiting Varkala for doing Yoga I can highly recommend the teachers at Mathatitu. Other Yoga places are Josephs in the backyard or Satwick, as well located on the cliff. Classes cost between 300 and 500 Rupees. 
Where to take surf lessons: 
Sanaa Surf School - go for Shaji,  a great teacher and fair prices. You can also just rent a board there. 
2 hour classes will cost 2.000 Rupees. Board rental for 6 hours is 600 Rupees.  
Where to hang out: 
This you will also get on the german blogpost ;-) 5 Tips für deine Reise nach Varkala / Indien
More details and tips on the german blogpost about Varkala!
---
Varkala - Munnar
I needed a little rest from sweating and being overheated all the time, so I decided to go to Munnar after 5 weeks in Varkala.
Of course it makes more sense to stop and see Alleppey first, if you want to do so. Otherwise you will travel in a triangle, like I did then. 
How to get there: 
Well, I took a train from Varkala to Aluva which took about 4 hours for 120 Rupees (Sleeper). In Aluva I found myself a single room in a Hotel nearby the busstop just for sleeping. They charged 1.000 Rupees and I could take the 7.30 am bus the next morning and make the rest of the way uphill to Munnar, which took another 4 hours. Buses leave constantly to Munnar. 
---
Munnar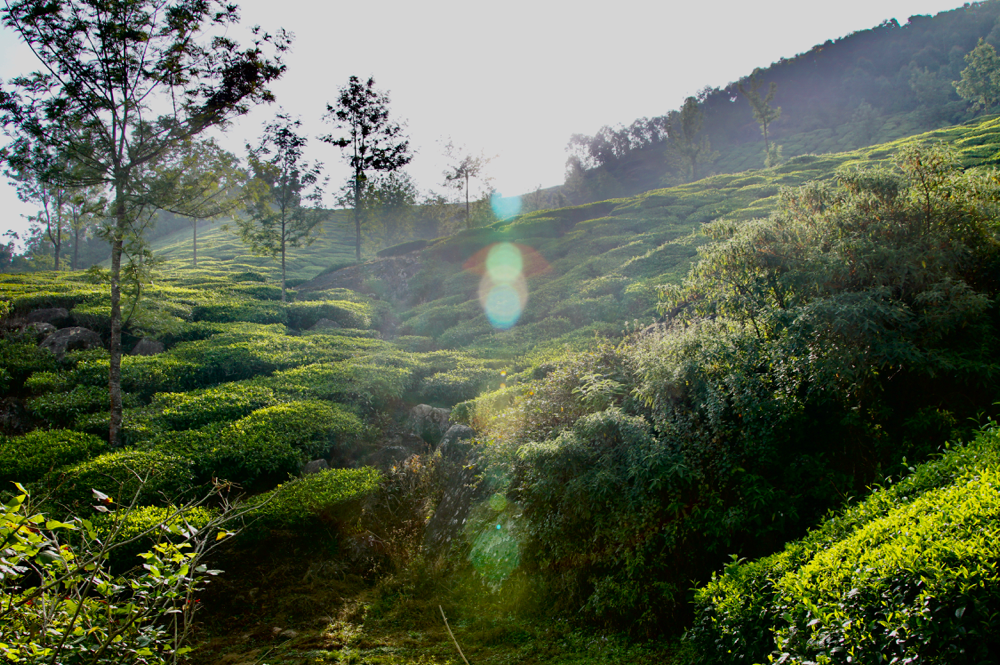 Where to sleep: 
I spent my 2 nights in the Green View Holiday Inn. They have a nice rooftop and supportive stuff. Single room is available for 600 Rupees per night. If you are interested in hiking, they also organize different trips to waterfalls, hilltops,....
The stay is nearby the KSRTC Bus Station, between a collection of hotels and homestays, 2 restaurants, 1 café and several food stalls. It's about 1.5 kilometers before Munnar City, which is not worth seeing it BUT if you want to try handmade chocolate and get yourself some fruits - go there! There's a nice food market and several places you can buy this local made chocolate which is really, really tasty :-) A Tuktuk should cost about 40 Rupees to Munnar town. 
With whom to go hiking: 
A full day trip including breakast and dinner is available for 1.000 Rupees per person at the Green View Holiday Inn. I went with "Shadow Trekkers Munnar" (e-mail: shadowtrekkersmunnar@gmail.com) for a half day trip, from 7.00 am - 1.00 pm, including breakfast, tea, water, fruits and a really informative hike up to one of the hill tops around Munnar. Costs: 600 Rupees  Don't forget to protect your head from the sun and bring sunscreen! You can try to go hiking on yourself, but don't forget that the tea fields are private property and they may not let you in without a guide or charge you a fee anyway. 
---
Munnar - Alleppey
How to get there:
So, there are 2 busses a day running to Alleppey. One bus at about 6.20 am and one at 11.40 am - but check the bus times at least twice directly on the bus stations Sometimes one of those busses is not running - whatever the reason is, so double check it to be secure. Of course you can also take a bus to Kochi (there are much more options) but then you have to wait in Kochi again for the ongoing bus to Alleppey.
The fee (Munnar - Alleppey) was 180 Rupees, traveling time about 6 hours. 
---
Alleppey
Alleppey is different. I've never been to a place comparable to the colourful waterways that divide Alleppey into small islands, on which locals live and several accommodations are located. Sure, Venice and Stockholm in Europe are beautiful as well, but in Alleppey you can watch women wash their laundry, kids playing on kanus, farmers doing their work and even though, there are hundreds of boats cruising around, it is quiet and still authentically. I expected garbage swimming in the water, smelly and dusty air - but it was nothing like that. 
Just color- and peaceful on the water. Highly recommend doing any kind of boat trip there! 
Where to sleep: 
I would recommend one of those beach hostels Alleppey has. I went for the Zostel, which is directly located on the beach and 30 meters away from the Catamaran Cafe, which has a really nice rooftop and food - a perfect place to chill, work, read, write, … and enjoy the sea view.
Where to get onto a boat: 
Hostel Zostel is organizing a boat trip which takes you through the waterways for a whole day (8 am - 5 pm) for 1.000 Rupees  including all meals and drinks. Because of some stomach issues, I prefered to take the safe way and went out for myself, 2 hours which is 600 Rupees per hour, per person. So find as many people as possible to save money. 2 hours are too less time, I think. I would recommend at least 3 hrs. You can also go by Kayak or houseboat. Catch a Tuktuk driver to get you to a ferry station or manage those issues together with your hostel stuff or  one of the indian travelers, which are extremely supportive concerning things like that. 
---
Alleppey - Fort Kochi
How to get there:
Catch a Tuktuk to get to the train station. Drivers charge about 80 Rupees per ride, doesn't matter if you go to bus or train station. It's a tourist fee and you cannot really bargain that price.
There a sequently trains that ride straight to Kochi in about 2 hours for 15 Rupees.
A Tuktuk from the train station to Fort Kochi will charge you 300 Rupies during the day and 400 Rupees during nighttime.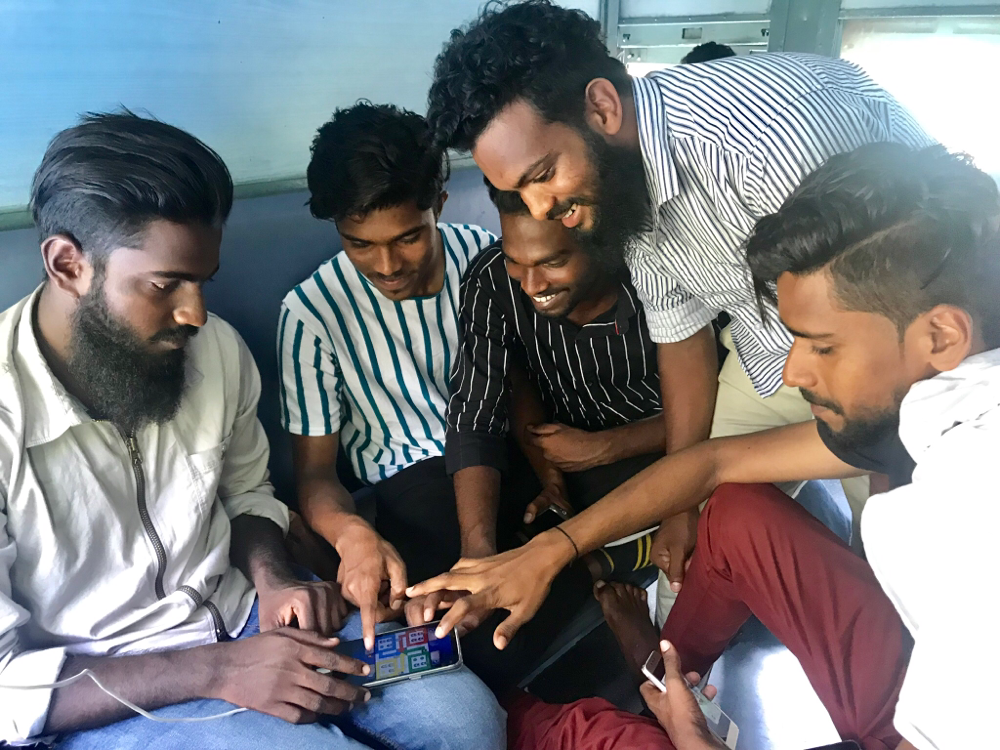 ---
Fort Kochi
Where to stay: 
Choose a hostel or homestay directly in Fort Kochi. There are so many adorable accomondations there and you can easily take a break during the day without getting out of the Fort and inside again. Nice sceneries you can find closely to the coast shore and beachside. Watching the fisherman using chinese fishing techniques is super interesting as well. And then take your time, walk through the streets, enjoy nice cafes and boutiques! 1 day in Fort Kochi is enough I think. 
Kochi - Muziris Biennale 
is Indias largest art exhibition and lasts until March 29th if you should be around at this time. It's 100 Rupees entry fee (mondays are for free). Get your ticket and an overview over the smaller exhibition locations at Aspen Wall, which is the heart center of the Biennale. It's worth visiting it if you are there anyway! 
---
Fort Kochi - Gokarna
How to get there:
This is the first time, I had to check the connections between destinations and availability. So there are 2 things you can check out: any Indian railway app or ask at the reception counters of any railway station - which is the way I prefer. There are night trains from Kochi straight to Gokarna which take about 12 - 13 hours. I had to pay 1375 Rupees in 3AC wagon for a connection to a place called Sangli, further north than Gokarna (but there was no other solution in this case for me). 
---
Gokarna
Well Gokarna itself is a small city located directly on a large beach. The city itself is not that interesting. If you like, you can visit the two small temples and the local market to get an impression of indian living here, but it's not super impressive. 
Online you may not find too many informations about the in fact, really high range of accommodations on the beaches here. So maybe book a place for the first night and then find yourself a comfy stay for the rest of your time in Gokarna. Most offers you will find at Kudle beach and on the main beach. Good to know, maybe: the beaches are not directly connected to streets, so you have to carry your stuff all the way to your accommodation. Most beach huts cost around 300 Rupees per night. So it's pretty cheap..
Beaches: 
Main Beach Gokarna 

Kudle Beach 

Om Beach
Half Moon Beach 
Paradise Beach 
I started at the heart of Gokarna and it took me around 6 hours (including a lot of breaks to check out cafes, a swim, …) to the last beach and return. My pacer told me it's been 16 km in total. Sometimes you can take a tuktuk, sometimes a boat, if you don't want to walk all the way there and return. 
Main Beach: 
Main beach you can easily reach by foot, tuktuk, scooter, car (there are parking lots) … Along the very very long beachway you will find several rooms, cafes and restaurants. I really liked a french place, called Chez Christophe. Lovely place compared to the plastic chair restaurants you will typically find here. One place, called Namaste Samudra Yoga House, seemed to have nice beach houses and a very nice yoga hall, if you're looking for something like that. 
Between Main Beach and Kudle Beach: 
The connecting road between those two beaches offers several hilltop accommodations, restaurants and yoga places like Hari Om (daily Yoga classes) and Mantra Cafe (for a stunning view over Gokarna). 
Kudle Beach: 
At the end of the street (until here you can also take a tuktuk) you will have to take some stairs and a pathway down to Kudle beach, which is full of restaurants, cafes and rooms. Theres one yoga school, called Shree Hari, in the backyard of ocean view hotel which offers TTCs and drop in classes. Walk all along Kudle beach and you will reach the stairs up to the way to Om beach. 
Om beach: 
This beach is the best one, in my opinion. Not too crowded, not too many places to decide in which to jump into. Perfect water for swimming and not too windy here. And its beautiful, by the way. Same here: walk to the end of Om beach to go on to the best pathway to Half moon beach. I would definitely recommend that way. But if you want, you can also take a boat from now on. 
Half moon beach: 
The best thing here was the walkway along the cliff and the stunning views around. Really enjoyed that. Half moon beach is quiet, just 2,3 places to hang out here. I think its enough to get here. But if you also want to see Paradise beach, you have to climb some rocks from now on. 
Paradise beach: 
Well, is also nice, but i felt like entering a hippie community and disturbing the vibes here. So a little messy, a hand full of tents and hammocks, some tenders for coconuts and pineapples and thats it. There are some people swimming in the sea. Probably the ones who took a boat trip to get here, waiting to get away again :-)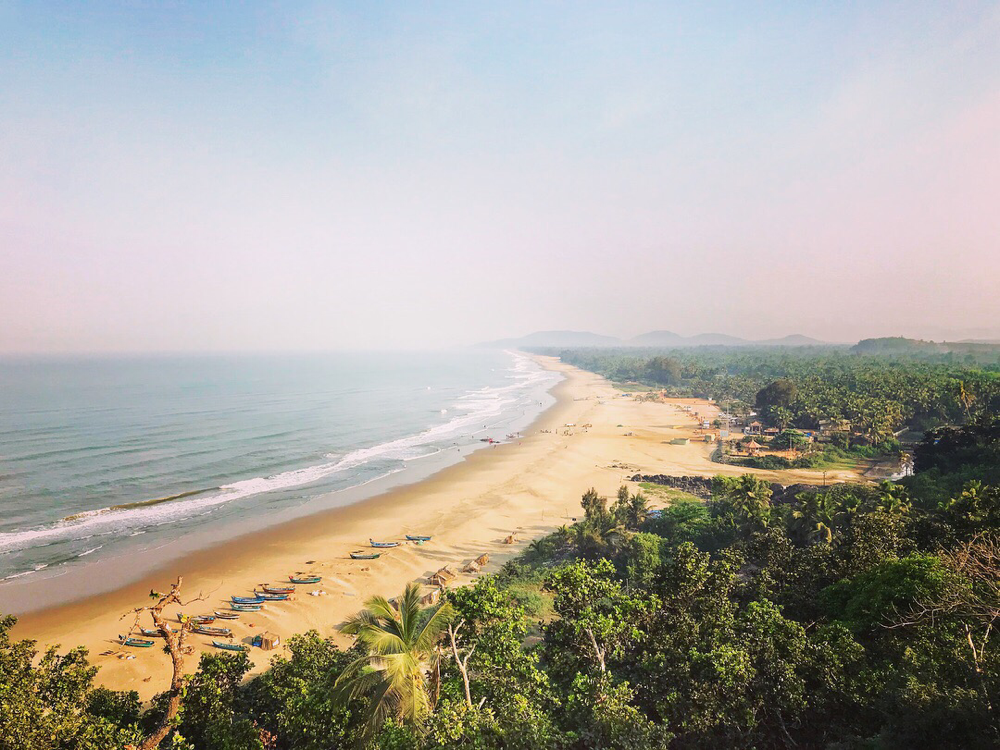 ---
Gokarna - Palolem
How to get there:
Gokarna and Palolem are separated by about 70 kilometres! You can either take a train or a bus, so several options during the day to get on the 1.5 hours ride. A train reserved train ticket will cost 40 Rupees! 
---
Palolem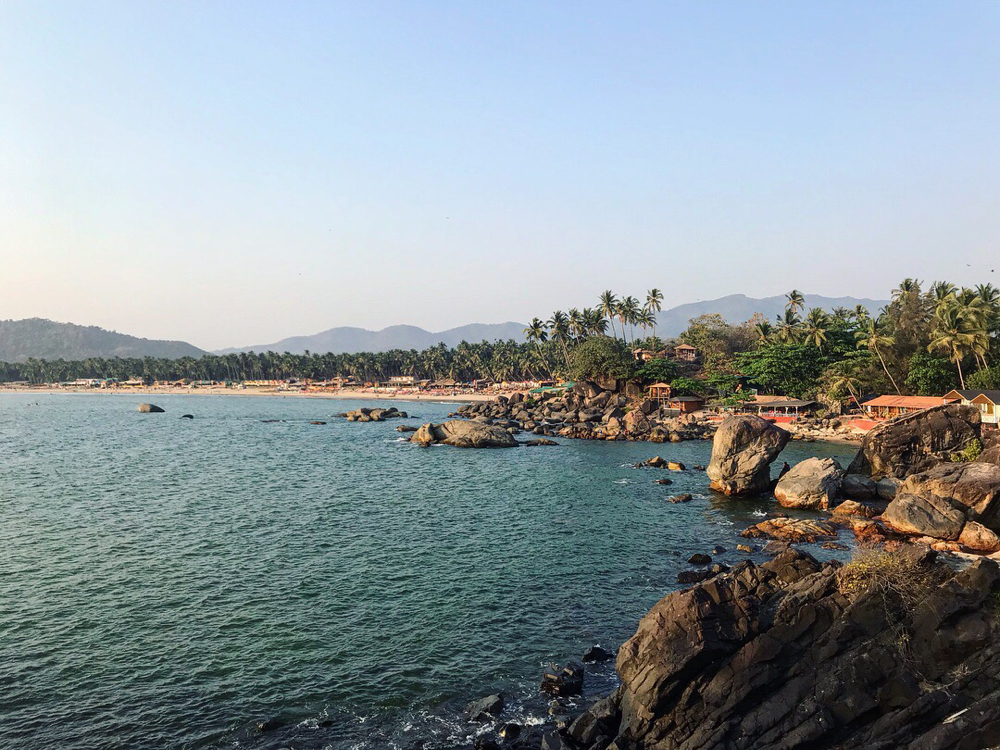 Palolem is a tiny accumulation of restaurants, bars, hotels, guesthouses, homestays and shops & a few boutiques along a beautiful beach which is embeded by huge rocks! 
What to do in Palolem?
There's a nice sunset point you can easily walk to, kanus and SUPs to hire or just do cafe hopping the whole day! You can also rent a scooter (around 300 Rupies per day) and get an impression of Agonda, Butterfly, Cola, Patnem and Galgibaga Beach around!
Where to stay?
I avoided staying in the crowd and found my place in the backyard, which is the more shanti place to be!
I can highly recommend Rainbow Lining Hostel in the backyard! 
It's a super clean hostel, with several nice and chilly common areas, cute and supportive stuff, free morning yoga classes on the rooftop, varied breakfast every morning (in price per night included) and with nice cafes and restaurants around which are way cheaper than those directly on the beach! 
Where to chill?
Café Maria (best place to eat in whole India!)

         

              

Little World on the Main Road (Vegan & Vegetarian Community Café) 

Zest on the Main Road (Vegan & Vegetarian) 
Nireas on the Main Road (Vegan & Vegetarian) 
Alario's Restaurant next to Rainbow Hostel 
Café Art on the Beach 
How to get to Vasco da Gama / Dabolim Airport?
Well, there are 2 good options: 
1. Take a (shared) taxi! They will charge about 1.800 Rupees for the 2.5 hrs drive!
2.
 Take a bus from Canacona Bus stand to Madgaon: 1:30 hours approx. Cost approx 70 Rupees. 
Then change for another bus from Madgaon to Dabolim (Vasco area): 1:30-1:45 hours. Cost approx 80 Rupees.
The waiting period at Madgaon May also be 30-40 minutes.
The bus will drop you about 3-5 kms before the airport, so please take a tuk-tuk from there for 100-150 Rupees.
Total bus time can be 3:30 - 3:45 hours.
Goa airport is very small and unorganised so  reach your ticket counter 2 hours before your flight!
---
Palolem - Hampi
How to get there:
From Palolem to Hampi and also return there are 3 night buses a day! Seater will cost around 800 Rupees  bed around 1.500 Rupees! Make your booking online. The ride will last about 10 hours. Another option is a train ride to Hampi! 
---
Hampi
Where to sleep? 
Goan Corner on Hippie Island. It's a quiet, chilled place between rice fields and rocks! They have huts and a rooftop on which you can stay. They offer crash pads for bouldering (I think it was 150 Rupees per day) and the common area is a restaurant as well.
Where to eat? 
Hampi
- Chill Café (is such a relaxed, super colorful rooftop hang out) 
- Gopi (rooftop with stunning view)
Hampi Island 
- Secret Café (try Thali there, it's massive)  
- Shanti Restaurant (sitting in between rice fields) 
What not to miss in Hampi?
1.  Temples & Ruins: Rent a moped and cruise through all the stunning temple ruins and villages 
2.. Exploring nature: Visit the waterfall by trekking through the banana fields 
3. Celebrate Holi Festival: they celebrate on two days: 1 day in Hampi, 1 day on Hampi Island! It's not too crowded and a safe place for Holi
4. Sunset: Climb the rocks on Hampi Island in the late eventing to catch the sunset colors 
5. Bouldering: Rent a crashpat and climbing shoes and go boldering 
6. Yoga: attend any of the various yoga classes on the island 
---